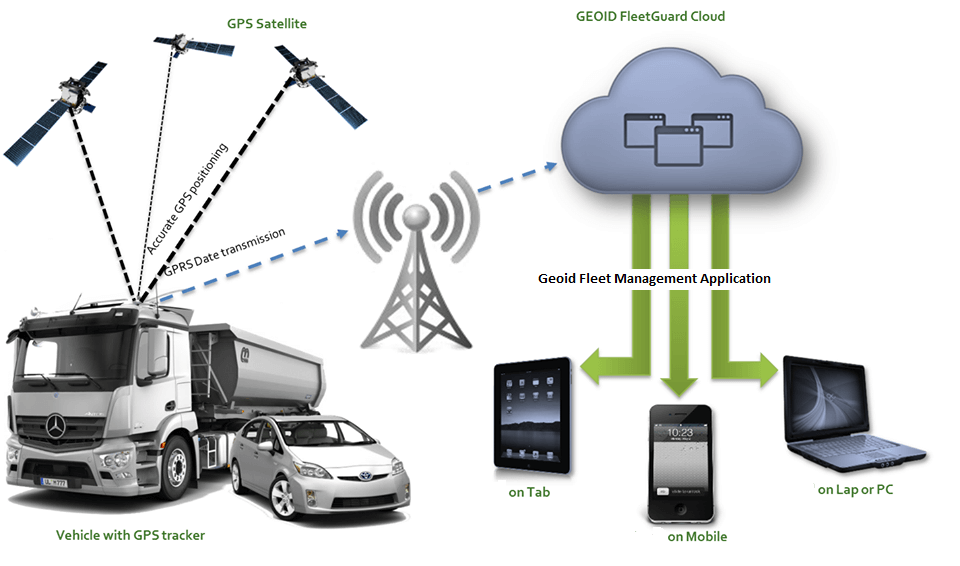 The GPS trackers receive signals from the GPS Satellites orbiting the earth and by triangulating at least 3 satellites and then they are able to determine the position and speed of the vehicle (or person) anywhere on earth. The GPS trackers may equipped with several accessories according to the customer's requirement.The GEOID GPS device stores the information in memory, and then transmits the information to the GEOID Fleet Guard cloud using the mobile phone network.
The information is stored at the GEOID Fleet Guard cloud.
Users simply log in over the internet to track their vehicles, send and receive messaging and generate customized reports through Geoid Software Solutions for Fleet Management.
Customer Testimonials
Construction Management
I recommend Geoid to anyone who needs a GPS Solutions and this is the best GPS solution i ever seen
If someone was interested in this system, I definitely would encourage him/her to go forward with it. Because the system makes sure that the drivers are accountable for how they handle the vehicles. It helps us see where we could make some savings and where our vehicles are at all time. It has saved us in many emergencies. Geoid is a great company to work with. I would definitely recommend them to anyone who needs this service and I have.
Major Nishantha Illangakoon
Manager Logistics Vehicle Yard and Workshop
Tokyo Cement Group
Gas & Hazardous
Geoid has immensely contributed Ceylon Oxygen during our journey towards the winning National Occupational Safety and Health Excellence Awards 2016 and 2018 (Transport and Logistics sector), recognizing the company's tireless efforts in upholding transport safety in Sri Lanka. We believe that with right training, equipment and work culture, every incident is preventable. Geoid, thank you for the support and commitment, to achieve safe transportation culture, and I would like to recommend Geoid for anyone who looks for a fleet management and safety solution.
Mr. Anura Rathnayake
Transport Manager
Ceylon Oxygen Ltd.
Company Operations
The success of any logistic Company lies in the strength of its monitoring process.  Towards this end we have found the Geoid  Information Technologies (Pvt) Limited tracking units to be the mainstay of our process of monitoring movements of our vehicles, speed, downtime, etc.
I would also like to add that the number of accidents have reduced to a large extent because of the tracking units.  All these would not have been possible if the tracking units are not working in perfect condition.  In this context we would like to place on record our appreciation for the after sales service provided, which was excellent.
On the whole we are indeed pleased with the performance of the tracking units, after sales service and the courtesies extended by your Company from time to time.
Mr. Prasad Rajan
Executive Director
Sunmatch Company Pvt Ltd.
Construction & Industrial Management
Gas & Hazardous Goods Transportation
Passenger Transportation & Cab Services
Telematics For Your Company Operations